Do you want Santa to look like a dork?
or do you want your Santa to look like the real Santa?
Your Santa Suit. Does fabric make a difference?
From a cheap vinyl material used for rain protection to rich, deep velvet velours, the range of fabrics that you might encounter in a Santa suit is vast.
Where might a cheap vinyl suit be used effectively? In the rain, of course. Sorry for the joke; but the best place to use these plastic suits might be at a fraternity party or an office party. They might also be used as an outside decorative display costume worn over a mannequin. Sometimes these will be accompanied by a cotton-like beard. They serve a purpose, but not for small children.
Most flannel and felt suits are a little better, but also would be best for adult parties.
Do these lower quality suits have any real IMPACT on a child's mind?
Children may not have discerning eyes, at least as to the richness (or lack thereof) of fabrics, but they do have memories from year to year and from Santa (at the Mall) to Santa (at your home or party). If Santa at the Mall is wearing a luxurious costume, but Uncle Bill or whoever you enlist to be Santa this year, is wearing a worn out cotton suit; it will be duly noted and impressed on the child's mind. Well, maybe not if the child is one and two, but watch out at three.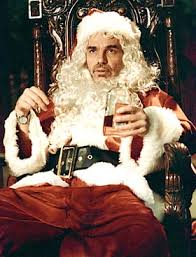 If your budget dictates that you can only afford a flannel suit, one way to enhance it is by replacing the white flannel trim with white plush trim; available at most fabric stores, and I am sure on the 'net'.
But most of all, if you are on a budget; buy the best wig and beard you can afford and the less expensive suit. You can always improve the suit later.  Buy anything, except, of course, the vinyl suits.
As a longtime owner of a theatrical, masquerade and Halloween costume business; I have an extensive knowledge and background in all areas of costuming. Our blog site is a clearinghouse of costume ideas, suggestions and information as it relates to your costuming needs. With Christmas coming and Santa, too; we can help you select a Santa suit, and dress for the occasion properly.
For ongoing Santa Claus and Seasonal costume ideas, please visit our site at:
Article Source: http://EzineArticles.com/?expert=Russ_Duemmel


Article Source: http://EzineArticles.com/5367069