Time To Buy Your Santa Claus Suit
Halloween is over, and now it's time to start Christmas shopping; at least for a new (or maybe replacement) Santa Claus costume. That's one Christmas purchase that shouldn't be left until closing time on Christmas Eve.  Around Thanksgiving, we will go into more detail about what you need to know about Santa Suits, but this is just a reminder about Christmas and Santa.
What does a typical Santa suit consist of? Most Santa Claus costumes will be nearly complete with a coat, pants, hat, belt and boot tops, sometimes called leggings. Sometimes an inexpensive wig and beard will be included, and sometimes not.
Of course the Santa suit, pants and hat will be red, although there is quite a range of fabrics and qualities available.
The coat will generally have a 3-4″ wide stripe down the from and around the bottom of the coat and matching cuffs. The hat will have white trim around the base of the hat and probably a white ball on top of the hat.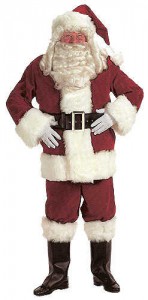 The least expensive suits are made of felt or a non-descript fabric, and both the suit and the trim are made of the same fabric.
To enhance an inexpensive suit, adding a plush trim over the existing trim will greatly improve the costume. Of course, that involves a trip to a fabric store and additional costs, but the appearance of the suit will be immeasurably better.
Unfortunately, both the quality of the belts and the boot tops / leggings could be better, as both are normally made of high gloss, cheap vinyl material. Santa's belt (about 4″ wide) buckle offsets this somewhat as it sometimes is the focal point of Santa's midsection.
Oh. Boot tops. What are boot tops? They are a black glossy vinyl (or another type of plastic) leg covering that starts at the knee and extend below the ankle to simulates boots.
Wig and beards. Or is it Beards and wigs? You might find a set, or just a beard, in the carton with your newly purchased suit. More likely you will need to purchase it separately, but depending upon your need, the maybe enclose hairpiece and beard will suffice.
On pricing. A cursory glance at a few sites indicate that you might locate a suit for as little as $50 or thereabouts. On the high end, you probably don't want to know; but think four digits.
As a longtime owner of a theatrical, masquerade and Halloween costume business; I have an extensive knowledge and background in all areas of costuming. Our blogsite is a clearing house of costume ideas, suggestions and information as it relates to your costuming needs. With Christmas coming and Santa, too; we can help you select a Santa suit, and dress for the occasion properly.
For ongoing Santa Claus and Seasonal costume ideas, please visit our site at: http://www.costumescostumescostumes.net
Article Source: http://EzineArticles.com/?expert=Russ_Duemmel
Article Source: http://EzineArticles.com/5330689