2016…2017…2018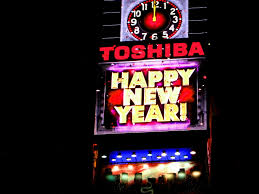 And yet another countdown.  This time to the end of 2017 or the beginning of 2018, whichever you prefer. We'll talk about the cleaning and storage of Santa in a few days; but in the meantime, we have another masked ball to go to on December 31.  
Gone are the heydays of the Night Clubs and Supper Clubs and their formality of wearing tie and tails, top hat and cane, black and white, formal dress ware. Although much more informal in this new century, there are still a few costumed parties.  But it might be a little more difficult to dress in costume than at Halloween, where anything is fair game. For New Years Eve starters, there are the robed Father Times and diapered Baby New Year costumes.  A long white wig and beard, similar to Santa's might be in order, but the scythe might be a bit dangerous to the other party goers. What happened in 2015 (events and celebrities as in who died and who did what) might be starting points for your costume, and politicians are always fair game.
Or maybe, just wear the glitz and glittered shiny cardboard hat, and have a blow tickler (aka snake blowout) handy to make a little noise at midnight.   Have fun, because in the next few days is the beginning of a new year.
more...